Well, here it is: the new edition of Up the Duff.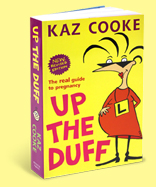 'Wait a minute,' I hear you say, rather suspiciously, with narrowed eyes, pausing in your reach for another Tim Tam, 'What's wrong with the first edition? Did it tell women a baby was going to come out of their ear?'
Nope, although I think I may have thought it would before I started my original research and writing for the first edition. It first appeared more than a decade ago but Up the Duff is never "old": it's reprinted every few months, and each time it's updated with any important medical info.
This new edition followed a big overhaul and has a new cover colour - it's sunshiny yellow instead of the old lime green. Please don't buy old copies of the book on auction sites, or borrow one. Every pregnant woman deserves the latest info, and should have the newest reprint of the edition with the yellow cover, for the best up-to-date medical info.
I've added new stuff for partners (signalled by a heart in the book's margins), and made sure all the latest on medical tests is included, covering what they are, when to have them, why they're done, and how to interpret the results. I've badgered a whole new lot of experts working at the coalface of caring for pregnant women, helping them through birth, and looking after new babies. They've checked the facts, provided all the latest info and made suggestions.
The book now kicks off with a new chapter on getting ready for pregnancy and closes with a bigger, better Help part at the back, featuring added chapters on fertility troubles and assisted conception (including IVF) as well as an updated contacts and resources chapter for pregnancy and after the baby is born. Throughout the book there's also loads more info on everything from which fish you can eat safely to when you can have sex after the baby's birth (any time Johnny Depp knocks on the door).